Being in debt is normal in the Philippines. The Bangko Sentral ng Pilipinas (BSP) released the National Baseline Survey on Financial Inclusion (NBSFI)1 in 2015 which is the first national survey of Filipino adults who are actual and potential users of financial products and services. It stated that almost 5 of 10 adults (47.1%) have debt, 33.8 percent borrowed in the past while 19.1 percent do not borrow at all.  Based on this survey, more than 70% of the Filipinos are living paycheck to paycheck.
But as for me and my household, we declared at the start of the year 2018; we will be DEBT-FREE in Jesus' Name! Everyone of us has different reasons for eliminating debt in our lives. But for us, the main reason is our children. We don't want them to inherit our debts when we are gone or inherit the habit of being buried in debt thinking that to acquire debt is a normal thing to do in order to survive.
Why Get Out of Debt
Debt can take away a person's peace of mind and the joy that comes with the blessings of work because most of the income is going straight to the debt payment. We want our children see that it is ok to live like no one else today so that later we can enjoy the blessings of God like no one else as well. That is also the reason why I started this blog to inspire and encourage others to make that decision of breaking the bondage of debt personally or for their family.
Prior to the decision of getting out of debt, God spoke in my daily devotion: 
It is for freedom that Christ has set us free. Stand firm, then, and do not let yourselves be burdened again by a yoke of slavery.- Galatians 5:1
I have been thinking about this since then. I know God loves me and my family. He will help us become debt-free.
Our Getting Out of Debt Journey 
At the start of the year 2017 we had a  total of P 1,065,000 non-mortgage debt. We acquired this amount of debt from our car, credit cards , bad business decisions and bad financial decisions. We are working on this giant for 16 months now and we are down to P 277,772 as of today. Praise God our car and BPI Personal Loan are completely paid off! But we still have the following:
BDO Car Loan – completely paid off ( Total remaining loan amount was PHP 65,000)
BPI Personal Loan – completely paid off ( Total loan amount was PHP 100,000 not including interest)
BPI Credit Card (Mine) –completely paid off ( Total amount borrowed was P 114,000 not including interest)
Citibank Credit Card –completely paid off ( Total loan amount was P 90,000 not including interest)
Citibank Personal Loan 1 – completely paid off ( Total loan amount was P 200,000 not including interest)
BPI Credit Card (Hubby)-   PHP 79, 197 remaining
Citibank Personal Loan 2 – PHP 191, 789.88 remaining
I know we still have a large area to cover but we are so happy and excited with our progress. With God's help and discipline, we will be able to eliminate this debt in no time!
What We Did in the Last 6 Months
Acknowledge debt

They say that you cannot change something unless you acknowledge it. We are aware of the giant that we are facing but we also know that we have a bigger God who loves us. In Him, everything is possible. We made a record of all our debts and arrange them from smallest to largest.

Implement a budget

For each month, we make a different budget. It serves as our plan on how to deal with our finances each month. By doing this, we give every peso a name and we tell our money exactly where to go and not the other way around. We are also careful in following our budget all the time. There are times that we go over our budget and sometimes under our budget. But we are patient with ourselves, learn from our mistakes and try it again. In setting up a budget, it is important that both spouses ( if married) are on the same page. The Zero-Based Budgeting by Dave Ramsey works well for our budget.

Create a meal plan and grocery list

We do our groceries every week. Prior to our grocery day, I make a meal plan that contains all of the menus that we will have for the week. From the meal plan, I list all the things needed for all the meals in our grocery list. By the way, I have blogged about how I earn extra cash on our groceries so if you are interested to know how I did it, just click the link to  How I Earned P 15,000 on Groceries.

Live below our means

We always live below our means even if our income increases. We usually use the excess as a snowball  in paying our debts.

Minimize dining out

We did not totally removed dining out from our budget since there are times that we do not have the choice but to dine out. However we minimize it by cooking delicious and sumptuous meal at home. For example, we usually incur P 2500 in Dampa  every time my family of 6 go and eat there. So instead, I'll buy P 450 worth of seafood and cook them at home to satisfy my family's cravings. So I'll be saving P 2000 for doing this and at the same time I am also enhancing my cooking skill.

Track expenses

When we track our expenses, we know exactly where our money went and it keeps us on track of our budget.

Use cash more often
If we use cash, we have more control over our expenses compared with using a credit card.
8. Increase income
We thought of different ways on how to increase our income to cover up our expenses and pay our debts on time. Besides from our salary,we also earn profit from our skincare and cosmetics home based business which I can get to do wherever I go, online and offline.
9. Stop Borrowing
God is our source of everything and not the banks or other people who loan us money. He loves us and He will provide for us. Stop borrowing and start trusting that God will provide.
Look at the birds of the air; they do not sow or reap or store away in barns, and yet your heavenly Father feeds them. Are you not much more valuable than they?– Matthew 6:26

10 . Monitor our progress
It is very important for us to monitor our progress in our journey to debt-freedom. Through monitoring, we are able to see how much debt has been paid and how far we are from our goal. To help me monitor our progress, I use Undebtit.com. It is a free, mobile-friendly debt snowball management tool & payment planner. There is also an optional service that unlocks some cool premium features. There are plenty of features that the core (FREE) program has, Undebt.it+ is just a few add-on apps that you might find useful. It's also a great way to help pay for hosting and other expenses involved in running the site. Try it out, I think you'll like it, too.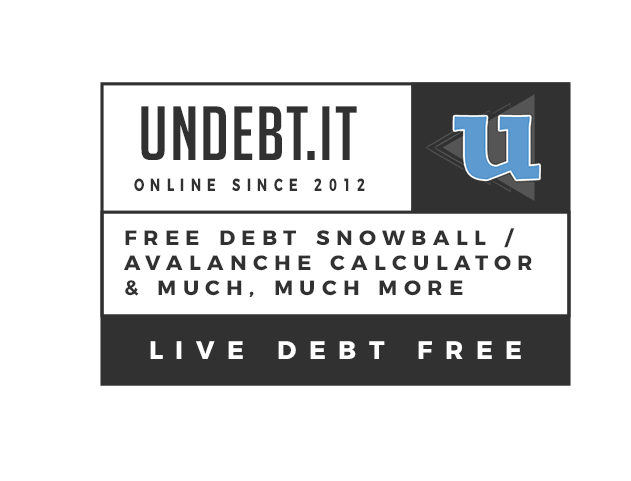 To help you manage your personal or family finances, fill out your information below so that I can email you the budget forms for FREE.
That's it ! Thank you so much for dropping by my web space. I hope that you like this post. If you do, don't forget to subscribe for more posts from me and leave us a comment below.